Officials are an essential part of sport. One of the recognised keys to the future sport of Chinese martial arts is the development and training of officials. Becoming an Official means you'll be making an important contribution to our sport. It is a rewarding and challenging role.
The Kung Fu Wushu Australia National Officials Accreditation Scheme (KWA NOAS) is a National Sporting Organisation (NSO) accreditation program recognised by the Commonwealth and all State and Territory Governments.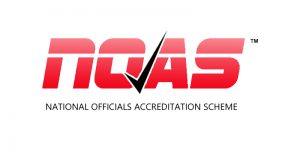 The KWA NOAS training program include the following components:
Officiating general principles – generic principles of officiating which covers a range of topics, including ethical responsibilities of officials, preparation for officiating, safety, communication, dealing with conflict and people management.
Sport-specific – rules, skills, and techniques of officiating in the sport of kung fu / wushu / sanda.
The objectives of the KWA NOAS are to:
Increase confidence and competence in officiating ability;
Improve communication skills;
Promote progressive improvement in officiating knowledge and expertise;
Provide a credible education and training process to attract new officials and retain existing ones;
Ensure a uniform approach to officiating throughout the country.
This program is for volunteers who want to make an important contribution to the sport by making sure everyone plays by the rules, that the competition is safe and that the spirit of the competition is observed and enjoyed by all. It is a rewarding and challenging role.
Become an Accreditated KWANOAS Official today by taking the following courses:
Taolu Officials Online Course – For officiating competition routines
Sanda Officials Online Course – For officiating full contact / controlled contact events