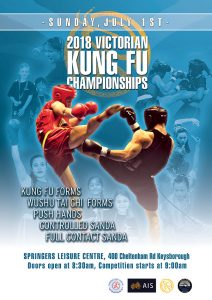 The 2018 Victorian Kung Fu Championships will be held on Sunday, 1 July at Springers Leisure Centre, 400 Cheltenham Road, Keysborough.
Competitors from both KWV and non-KWV member schools are welcome to participate. There will be events for wushu and kung fu taolu, tai chi and sanda (both controlled and full-contact). And for the first time in the Victorian championships, we'll be having a push hands competition for tai chi enthusiasts.
All details and forms on the rules and regulations can be downloaded here: 2018 Vic State.
Registration is to be done online only, at: www.2018kwvstate.eventbrite.com.au and must be completed no later than Friday, 1 June 2018. Fees for competitors can be found on the forms above; spectators are $10 per person, which can be bought on the day at the door.